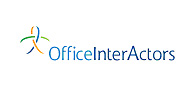 www.officeinteractors.eu
www.euroed.ro/online - Moodle platform
Office InterActors
Leonardo da Vinci
Transfer of Innovation project
(ref. no.LLP-LdV/ToI/2008/RO/017 )
OfficeInterActors
Office InterActors is a 2008-2010 Leonardo da Vinci Transfer of Innovation project coordinated by EuroEd Foundation, with partners and collaborators from Spain, France, Lithuania, Bulgaria, UK, Norway and Romania. The project offers a didactic model, multi-layered courses (national+international, face2face+online), integrated tutor training and international conference looking to develop transferable skills for Business and Administration in the following areas: foreign languages, ICT, team work, negotiation, entrepreneurship, awareness of business cultures, motivation for learning.
PROJECT DESCRIPTION
Office InterActors addresses the need for intercultural awareness, transferable skills and lifelong learning strategies for professional purposes, given the increased work mobility nowadays. Office InterActors proposes a VET educational model and EU supported training opportunities for developing basic and professionals skills in Business & Administration, transferable from study to work and from one work setting to another: foreign language (English and French as widely spoken, plus Lithuanian, Bulgarian, Romanian and Basque), ICT skills (including use of the Internet and Web 2.0), teamwork and negotiation (also in international teams through online collaboration), general and professional intercultural awareness and knowledge, entrepreneurship, other self-management skills and motivation for lifelong learning.
The Office InterActors target groups are, thus, at three levels: 1. educational / VET professionals and institutions interested to include the Office InterActors model in their educational offers; 2. employers and umbrella organisations representing employers, interested to invest in the training of their staff, apprentices or new recruits; 3. students studying Business & Administration, recently graduated, employees and would-be employees.
The project transfers, adapts and uses the existing InterAct model, the result of a Leonardo da Vinci project awarded the European Label in 2007. Two rounds of tutor trainings and two rounds of courses are the main highlights. In the courses, end-beneficiaries from Spain, France, Lithuania, Bulgaria and Romania form national groups meeting together on an online learning platform to carry out collaborative problem-solving tasks within a fictitious scenario relevant and realistic to their field. In the tutor trainings, educational / VET practitioners become familiar and confident to adapt and use the Office InterActors model with their own end-beneficiaries. The second training will be delivered as an integrated training and international conference event scheduled in the winter of 2010 and followed by the second round of courses. Thus, third parties interested to get involved in the trainings and then participate with groups in the courses will be able to do so. Also, all relevant materials will be made available through the project website and the Office InterActors Kit.
The Office InterActors project has been carried out with the support of the European Community. The content of this material does not necessarily reflect the position of the European Community, nor does it involve any responsibility on its part.