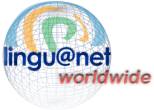 Project: Lingu@net Worldwide
(504830-LLP-1-2009-1-ES-KA2-KA2MP)
Life Long Learning Programme
Key Activity 2 - languages
Project: Lingu@net Worldwide
Lingu@net EU was developed over the last 12 years with support from the EU (in 1998-2001, and 2003-2006). In 2007 it was awarded the MERLOT prize for being 'exemplary on-line learning material for all disciplines' (www.merlot.org) and in 2008 Lingu@net EU was awarded the European Commission's Gold prize in the "European Lifelong Learning Awards for quality in mobility" (http://ec.europa.eu/education/languages/news/news1687_en.htm).
By the end of the project Lingu@net World Wide will:
· give access to over 5,000 (currently 3,700) good quality online resources
· provide online support and advice for language learners in 32 (currently 20) languages
· reach over 400,000 (currently 100,000) visits per month by October 2011.
Lingu@net WW will add the following 12 new interface languages:
· 7 new European languages to complete all 23 official EU languages:
o Czech (CS)
o Hungarian (HU)
o Irish (GA)
o Latvian (LV)
o Romanian (RO)
o Slovak (SK)
o Slovene (SL)

· 5 new world languages:
o Arabic (AR)
o Chinese (ZH)
o Hindi (HI)
o Japanese (JA)
o Russian (RU)
Adding these 12 new languages to Lingu@net Europa will help:
· give better access to online resources for learning languages (i.e. users can access materials and support for language learning in their mother tongue);
· give wider access to online resources for learning these new languages by making them accessible via 32 language interfaces;
· support language acquisition for migrants throughout the EU;
· act as show-case world-wide for EU-produced resources;
· continue to disseminate good quality results of EU language-related projects; and
· allow Lingu@net to continue its work towards sustainability for the project as a whole.
For more information, please contact the local coordinator, the EuroEd Foundation
Partners Involved
| | |
| --- | --- |
| Organisation name | Country |
| Universidad Politécnica de Madrid - Technical University of Madrid (UPM) | Spain |
| The Languages Company (TLC) | UK |
| UPM (see above) | Spain |
| Ινστιτούτο Επεργασίας του Λόγου – Ε. Κ. «Αθηνά» / Institute for Language and Speech Processing – "Athena" R.C.(ILSP) | Greece |
| Evropeiski centar za obuchenie i kvalifikazia / European Centre for Education and Training (ECET) | Bulgaria |
| CILT, the National Centre for Languages (CILT) | UK |
| Pedagogical facultyUniversity of South Bohemia | Czech Republik |
| Eotvos Lorand University of Budapest | Hungary |
| Queens University Belfast | UK |
| Public Service Language Centre | Latvia |
| EuroEd | Romania |
| E-KU | Slovakia |
| University of Primorska | Slovenia |
| School of Oriental and African Studies (SOAS), University of London | UK |
Japan Foundation UK
VALSTYBĖS INSTITUCIJŲ KALBŲ CENTRAS / Public Service Language Centre (PSLC) Lithuania
Gobierno Vasco (HABE) Spain
Generalitat de Cataluña (GENCAT) Spain
Syddansk Erhvervsskole Odense-Vejle Denmark
Taaluniecentrum NVT Netherlands
OÜ Miksike, SER (Miksike Learning Environment) Estonia
Jyväskylän yliopisto / University of Jyväskylä Finland
Centre international d'études pédagogiques – Maison des langues (CIEP) France
Xunta de Galicia (XUNTA) Spain
Institut für Internationale Kommunikation (IIK) Germany
Háskóli ĺslands / University of Iceland Iceland
Istituto Nazionale di Documentazione per l'Innovazione e la Ricerca Educativa (INDIRE) Italy
VALSTYBĖS INSTITUCIJŲ KALBŲ CENTRAS / Public Service Language Centre Lithuania
Universita' ta' Malta / University of Malta Malta
Fundacja Nauki Jezyków Obcych "Linguae Mundi" / Foreign Language Teaching Foundation "Linguae Mundi" Poland
Camoes / Ministry of Education? Portugal
Instituto Cervantes (IC) Spain
Svenska institutet / Swedish Institute (SI) Sweden
Confédération Européenne des Centres de l'Enseignement Supérieur / European Confederation of Language Centres in Higher Education Ireland
Project Flyer
The Lingu@net Worldwide project has been carried out with the support of the European Community. The content of this material does not necessarily reflect the position of the European Community, nor does it involve any responsibility on its part.